QLA Grip-It Sign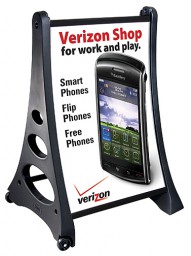 The Quick Load A-Frame Sidewalk Sign with Grip-It rails so you can utilize thin stock signs on your easy change sidewalk sign. Snap frame sign holders allow for use of large format digital prints.
Features
The sign channel contains a 24″ × 36″ × 4mm or 3/16″ corrugated sign panel on each side of the sign with Grip-It® rails top and bottom..
These unique front-loading snap frame sign holders accommodate thin sign materials (0.010″–0.050″) like styrene and waterproof card stock; perfect for large format digital prints.
Comes with
2 24″ × 36″ × 4mm white sign faces with 4 Grip-It® snap frame rails
2 29″ × 42″ black sign legs - one with wheels, one without.
3 25″ cross tubes.
4 No slide feet plus assembly hardware