A-Plus Rolling Sidewalk Sign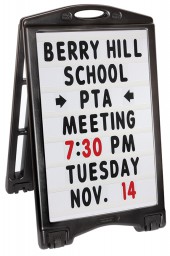 This sidewalk sign can easily be changed from a changeable letters message board to a graphics display.
Features
No lifting, no carrying, built in handle.
Rolls easily from either side on wide oversize 3″ wheels, open or folded.
The overall dimensions are 27″ × 47″ × 6″, easily fits through any door.
Folds flat for rolling and storage. Only 6″ wide.
7 lines for 4″ changeable letters on each side
Exclusive side Support Arms add rigidity and keep sign from folding closed or spreading open.
Holds standard 24″ × 36″ × 4mm corrugated plastic sign panels.
Change from changeable message boards to digital graphics. Patent pending Quick Change system locks sign panels in and adds gentle curve for added visibility and appeal.
Comes with
314 4″ Letters - with Numbers, Punctuations, and symbols
2 24″ × 36″ sign faces (panels) with track installed.
Patent pending wheel/foot system. Large feet keep sign from moving when deployed and the 3″ wheels engage when sign is tipped to ensure easy rolling over all surfaces.
Flip down Support Arms on both sides.
Ballast Ports allow the addition of water or sand for added stability.
Optional Deluxe Set
20 jumbo (double size) numbers, 2 percent signs and 2 reversible "SALE/

Special

" panels