A-Frame #20 Sidewalk Sign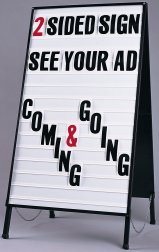 A changeable letter sidewalk sign you can be creative with. Two sided with a unique design allowing for words to be displayed diagonally.
Features
Ready to use - NO assembly required
Steel Construction
41″H × 21″W Heavy Duty Sheet Steel Frame
36″H × 21″W Message Area
Comes Complete Ready to use
Powder-coated black for durability outdoors.
Easily Transportable
Comes with
Black frame with white 36″H × 21″W sign faces tracked on both sides
Letters, numbers, symbols and punctuations.
Standard Model - 1 box of 4″ and 1 box of 2″ (186/box).
Deluxe Model - 2 boxes of 4″ (186/box), 1 box black letters, black numbers, 1 box red letters, red numbers.