Individual 8″ on 8⅞″ Clear Back Rigid (.080″) Changeable Sign Letters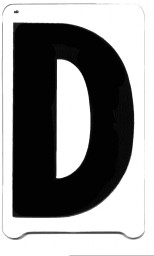 Individual characters (8″ on 8 7/8″ clear back .080″ Gemini) can be custom ordered to make up your own character mix.
Shipping is flat rate, so if you add more characters the shipping won't change.
If you want more than one color (letters one color, numbers another):
Fill in quantity of each character you want in a specific color, choose style and color, then add to cart.
Click on "Continue Shopping".
Fill in remaining characters and choose other color.
IMPORTANT - Order carefully, returns cost money - read this before ordering.