8″ on 9⅞″ Clear Back Rigid (.080″) Changeable Sign Letters - Set of 100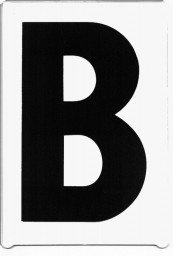 Gemini .080″ rigid letters for changeable letter signs and reader boards, includes letters, numbers and symbols.
Matching Gemini letters? Here's a complete look at the styles available. Some styles (color) are not available in every size.
For 200, order 2 (set of 100 is doubled) 300, order 3 (100 set tripled), etc. Price breaks at 300 & 500. Add Individuals for specific needs, like more numbers or punctuation, or a certain letter.
IMPORTANT - Order carefully, returns cost money - read this before ordering.
Box Contents
Black
Red

Letters
Symbols

| | |
| --- | --- |
| A | 6 |
| B | 3 |
| C | 3 |
| D | 3 |
| E | 7 |
| F | 3 |
| G | 3 |
| H | 3 |
| I | 6 |
| J | 2 |

| | |
| --- | --- |
| K | 2 |
| L | 4 |
| M | 3 |
| N | 4 |
| O | 5 |
| P | 4 |
| Q | 1 |
| R | 4 |
| S | 4 |
| T | 4 |

Numbers

| | |
| --- | --- |
| 1 | 1 |
| 2 | 1 |
| 3 | 1 |
| 4 | 1 |
| 5 | 1 |
| 6 | 1 |
| 7 | 1 |
| 8 | 1 |
| 9 | 1 |
| 0 | 1 |