Individual 8″ on 8⅞″ Clear Back Flex Changeable Sign Letters - Condensed Style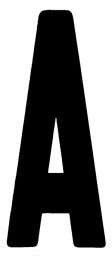 Individual 8″ Condensed style flex letters for changeable letter signs with numbers and symbols.
Individual letters and numbers are only available in Black (letters) and Red (numbers). They are approximately a credit card thickness, easily flexed to insert into the Flex Letter Track.
Minimum total quantity: 50 (40 when ordered w/box)
IMPORTANT - Order carefully, returns cost money - read this before ordering.