10″ on 11″ Clear Back Flex Changeable Sign Letters - Set of 300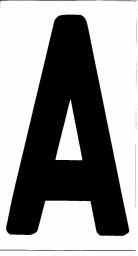 10″ flex letters are not usually found on Arrow signs, but can be seen at greater distances than the 8″ condensed. A good choice when that is a factor.
Not for use on enclosed signs (signs with vandal doors)
IMPORTANT - Order carefully, returns cost money - read this before ordering.
Box of 300 Contents
Black
Red

Letters
Symbols

| | |
| --- | --- |
| A | 10 |
| B | 6 |
| C | 6 |
| D | 6 |
| E | 10 |
| F | 6 |
| G | 6 |
| H | 6 |
| I | 10 |
| J | 6 |

| | |
| --- | --- |
| K | 6 |
| L | 10 |
| M | 6 |
| N | 10 |
| O | 10 |
| P | 6 |
| Q | 4 |
| R | 10 |
| S | 10 |
| T | 10 |

| | |
| --- | --- |
| & | 4 |
| % | 4 |
| . | 4 |
| - | 4 |
| ! | 4 |
| , | 4 |
| / | 4 |
| ″ | 4 |
| * | 6 |
| : | 10 |

Numbers
Symbols

| | |
| --- | --- |
| 1 | 6 |
| 2 | 6 |
| 3 | 6 |
| 4 | 6 |
| 5 | 6 |
| 6 | 6 |
| 7 | 6 |
| 8 | 6 |
| 9 | 6 |
| 0 | 6 |