Individual 6″ on 6⅞″ Clear Back Flex Changeable Sign Letters - Condensed Style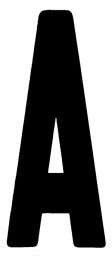 Individual 6″ Condensed style flex letters for changeable letter signs with numbers and symbols. They are approximately a credit card thickness, easily flexed to insert into the Flex Letter Track.
Minimum total quantity: 55 (40 when ordered w/box)
IMPORTANT - Order carefully, returns cost money - read this before ordering.