Rigid Letter Sign Track Installation Instructions
When the track spacing is correct, you should be able to put letters on the sign as described in the last illustration.
Let's start by defining an important measurement, the Visible Opening.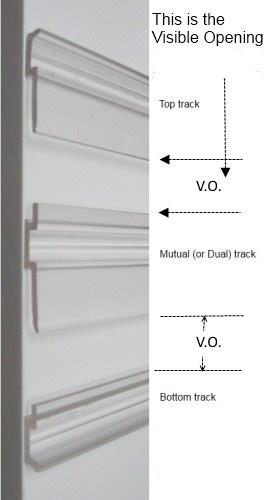 | Letters | V.O. |
| --- | --- |
| 3″ on 3⅞″ | 3¼″ |
| 4″ on 4⅞″ | 4¼″ |
| 4″ on 5″ | 4⅜″ |
| 6″ on 6⅞″ | 6¼″ |
| 6″ on 7″ | 6⅜″ |
| 8″ on 8⅞″ | 8¼″ |
| 8″ on 9″ | 8⅜″ |
| 8″ on 9⅞″ | 9¼″ |
| 8″ on 10″ | 9⅜″ |
| 10″ on 11⅞″ | 11¼″ |
| 10″ on 12″ | 11⅜″ |
Above are the Visible Openings for the Panel size your letter is printed on. Panel size is most always the 2nd size. Remember, the V.O. is related to the Panel height, not the letter.
There is no one way to fasten the track to the sign face, a lot depends on the sign face material (wood - ss or aluminum screws, fiberglass - aluminum pop rivets, etc.). For this DIY project, use whatever works for you. Glue is the least favorite and hardest to work with.
Spacing the track properly is important since that is what's going to hold the letters on the sign. and it makes them easier to change. There are several different ways to accomplish this. Start with the bottom track. Measure for the correct Visual Opening and make a straight line across the sign. Masking tape, Chalk line, anything to indicate where the next track is mounted. If this is more than a one line sign, the next piece will be Dual (Mutual)Track. Use a letter to check yourself as you go. There should be approximately an 1/8" clearance when pushing the letters in past the bottom track. Continue until complete.
If you have the ability to make a couple of wood spacers it really makes the whole job a lot easier, but not everyone can. Starting at the bottom, place the spacer against the bottom track. If the sign is more than a single line of copy, the next track will be a Mutual or Dual track. Place this on top of the spacer. More than one spacer makes the job easier. Continue until the desired number of lines of copy is reached, testing with an actual letter as you go.
---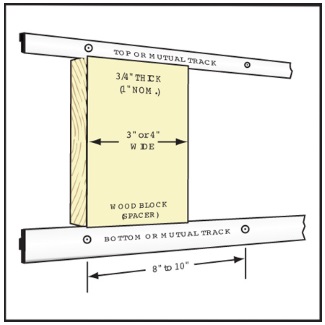 ---
| | |
| --- | --- |
| | 1. Push the letter up into the track above. |
| | 2. Then in, flat against the sign. |
| | 3. Drop down into the bottom track below. |