Model A-8 Outdoor Sign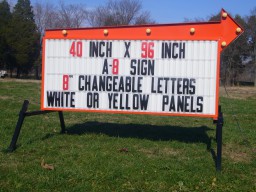 The sign pictured on our Home page is this Model. Complete with a box of 300 count 8″ condensed sign letters, this lighted sign with flashing arrow is a real attention getter at a reasonable price.
Signs shipped FOB Kentucky (allow 3–4 weeks for delivery). Submit a Freight Quote Request for total delivered price. Our average shipping costs range from $125.00 to $275+, which is lower than most. Residential is usually higher than commercial.
Comes with
300 8″ Flex Condensed letters, numbers, punctuations and symbols
Impact resistant corrugated fiberglass 40″ × 96″ faces with 4 lines of 8″ letters
Adjustable 2×2 tube stands (legs)
1″ × 1″ × 1/8″ Interior frames
60 watt lamps in arrow
High output Ballast and Solid state flasher
Ground fault circuit interrupter
One year manufacturers limited warranty
Features
A Lighted Sign with Flashing Arrow
2 sided, sign faces with track on both sides
Adjustable legs for uneven terrain
Price Includes Crating, Boxing, & Handling. Aside from freight, (and selected options, if any), there are no additional charges. Remember, when shopping, compare total price.