Return Clock for Vertical Open Closed Sign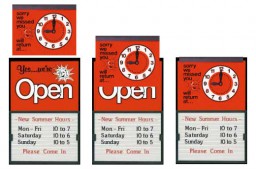 The Return Clock, the very best way to let your customers know when you'll return from a short closure.
The Return Clock slides down between the suctiion cups and covers the "Open" portion, leaving the message below visible. For those times when you are alone and have to run to the bank, or PO, or whatever! Just set the moveable hands to the time you are returning.