Vertical Sliding Open Closed Sign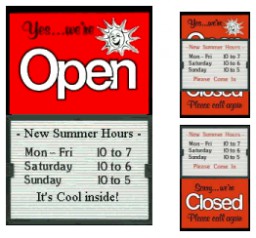 An Open/Closed sign with a vertically sliding changeable letter area for store hours, specials, holiday times, etc.
Standard Model includes 2 black letter fonts, each has 210 characters (420 total)
Deluxe Model adds 1 red letter font and a 10″ × 14″ Counter or Wall Sign, that's 630 total characters, all for only $6.00 more!
Great for Store Hours, Specials, Announcements
Mounted to the door or window glass with 4 suction cups (included)
Size is 20″ high × 14″ wide
Optional "Return Clock" is a 'must have' for the small shop owner!