Pronto Storage Cabinet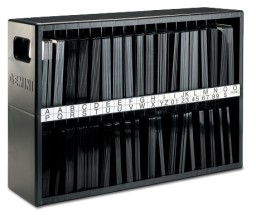 Sign Letter Storage Cabinet - Injection Molded Plastic - Stores a minimum of 300+ rigid letters (or more if used for flex letters).
Most letters have individual compartments, which makes message changes easier when you can select and refile the letters quickly and efficiently. Please note that the smaller size cabinet now comes in two parts, separating horizontally.
Dimensions

| Letter Size | Width | Height | Depth |
| --- | --- | --- | --- |
| 4″ | 23¾″ | 17½″ | 7¼″ |
| 6″ | 23¾″ | 17½″ | 7¼″ |
| 8″ | 23¾″ | 20½″ | 11½″ |
| 10″ | 23¾″ | 20½″ | 11½″ |