Portable Roadside Sign with Two 6″ Letter Sets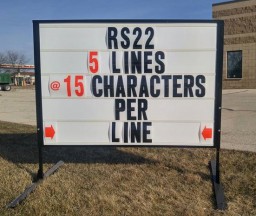 A Portable 2 sided changeable letter sign complete with 360 6″ changeable sign letters.
Since this ships UPS Oversize, take advantage of our Discounted Shipping.
Features
Sign Panels are 34″ High x 48″ Wide.
The sign panels are corrugated Polypropylene, which retains its strength and color longer than those made of styrene.
Gussets have been added to the bottom of the signs legs to improve wind resistance. Anchoring may be advisable in some locations.
Comes with
2 complete 6″ letter sets, 186 count each with letters, numbers & punctuation, 1 Black & 1Red.
Track spacing only supports the 6″ letter size.
1 Powder coated steel sign frame and 2 legs.
2 sign panels.
Mounting hardware.