Wind Protection Kit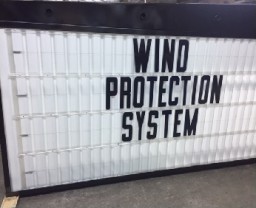 This will help hold the flex letters in place in windy conditions without the troublesome (and expensive) clear covers.
When ordered with a sign, the Kit is not installed. A separate package is inside the sign along with the letters and stand. This is a Do It Yourself kit.
Features
Simple installation.
Not guaranteed to totally prevent letter loss from wind, but close.
A Do It Yourself kit that works well.
All parts can be purchased at your local hardware store for a D.I.Y. project, or buy it from us to save time.
Comes with
Tension Springs
2 Hole Tabs
Bolts and Nuts
Braided Line
Drill Bit