Sidewalk Swing Sign WO/WO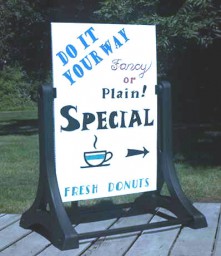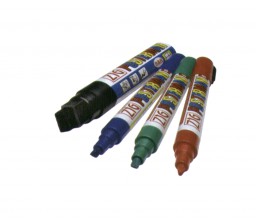 A waterproof - erase sidewalk sign that won't rub off. Create, change, remake colorful unique signs. Comes with 4 color markers.
NOT a dry erase sign that smudges when brushed against, or runs in the rain!. A fat black and 3 regular size markers - red, green, and blue. Do something really different that will be noticed... After all, that's what it's there for and yes, it is waterproof!
Features
An exclusive special coating on the WO board surface allows easy cleaning with Windex or ammonia based window cleaner
Made from rustproof technopolymers with internal steel supports for durability and stability in rainy or windy conditions
The overall dimensions are 42″ H × 32″ W × 24″ D
Its narrow 24″ profile easily fits through any door
An outdoor or indoor sign
Comes with
White 36″ H × 24″ W corrugated plastic sign face with proprietary coating on both sides
4 markers - wide black and standard red, green & blue
No-slide feet
Black base assembly with ballast port
Hardware