XL Sidewalk Swing Sign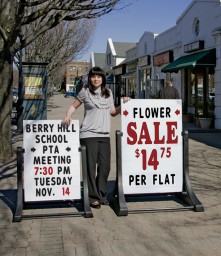 The same motion as all the sidewalk swing signs only larger. A bigger message board with 5″ letters for greater distance visibility.
Signs shipped by UPS (oversize) at dimensional weight rates, factory direct FOB NY.
Features
Bigger Sign - Bigger 5″ Letters.
A large 45″ × 29″ × 10mm corrugated plastic sign face.
The overall dimensions are 54″ H × 40″ W × 30″ D (Ships UPS Oversize).
Ballast ports for sand or water for added wind resistance.
Its narrow 30″ profile easily fits through any door.
Double Faced - Visible from either direction.
Room for 6 lines of changeable letters on each side.
Made from rustproof technopolymers with internal steel supports for durability and stability in rainy or windy conditions.
Comes with
289 5″ Letters - with Numbers, Punctuations, and symbols
45″ × 29″ sign face with track on both sides
No-slide feet
Black base assembly
Hardware
Optional Deluxe Set
20 jumbo (double size) numbers, 2 percent signs, 2 dashes and 2 reversible "SALE/

Special

" panels