Custom 48″ × 96″ Center Pole Mount Outdoor Sign with Header - Model E-8H-CPM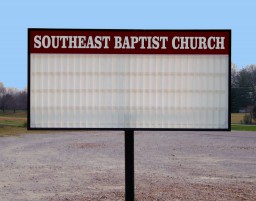 A 48″ × 96″ lighted sign with an Aluminum Cabinet, your Business, Church, or organization name, and 4 lines of 6″ Rigid changeable sign letters.
Signs shipped FOB Kentucky (allow 3–4 weeks for delivery). Submit a Freight Quote Request for total delivered price.
Features
48″ × 96″ Center Pole Mount with Custom Header.
Your Company or Organization name at the top.
Lighted 2 - 96″ DHO Fluorescent Tubes.
Double Faced with 4 lines of 6″ Rigid letter copy, letters included
Saddle Mount - Fits 4″ pole (4 1/2″ OD, pole not included) No Welding required...Bolts on.
Black, White or Red Aluminum cabinet, powder coated for a longer lasting lustrous finish.
Price Includes Crating, Boxing, & Handling. Aside from freight, (and selected options, if any), there are no additional charges. Remember, when shopping, compare total price.
Comes with
Two 12″ SG Flat inserts with your name in reverse print (1 on each side)
288 6″ on 7″ clear back .060DR Rigid letters, numbers, punctuations and symbols
Impact resistant corrugated fiberglass faces with 4 lines of 6″ letters
Lighted w/2 8′ DHO Fluorescent Tubes.
High output Ballast
Aluminum cabinet over a 1″ × 1″ × 1/8″ interior steel frame
One year manufacturers limited warranty