Model E-6 Lighted Outdoor Sign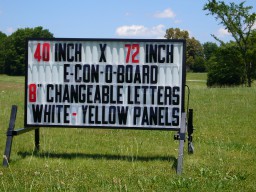 The compact message board (40″ by 72″) still has the impact of a larger sign, with 4 lines of 8″ letters.
Also available Unlighted
Signs shipped FOB Kentucky (allow 3–4 weeks for manufacturing and delivery). Submit a Freight Quote Request for total delivered price. Our average shipping costs range from $200.00- to $500+, which is lower than most. Residential delivery is usually higher than commercial.
Features
If lighted, it has economical fluorescent tubes, High output ballast, GFCI
2 sided, sign faces with track on both sides
One year manufacturers limited warranty
Price Includes Crating, Boxing, & Handling. Aside from freight, (and selected options, if any), there are no additional charges. Remember, when shopping, compare total price.
Comes with
300 8″ Flex Condensed letters, numbers, punctuations and symbols
Impact resistant corrugated fiberglass faces with 4 lines of 8″ letters
Adjustable 2×2 tube stands
1″ × 1″ × 1/8″ Interior steel frame
Lighted option includes 2 Fluorescent tubes, High Output Ballast and GFCI