Model A-20 Special Outdoor Sign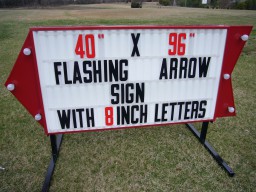 A new look for the Arrow Sign line, the sign face is 40 inches by 72 inches, overall length 96 inches.
Signs shipped FOB Kentucky (allow 3–4 weeks for delivery). Submit a Freight Quote Request for total delivered price. Our average shipping costs range from $125.00 to $275+, which is lower than most. Residential is usually higher than commercial.
Comes with
176 8″ Condensed Flex letters, black with red numbers, w/punctuations and symbols.
Impact resistant corrugated fiberglass 40″ × 6′ White or Yellow faces with 4 lines of 8″ letters.
The overall dimensions are 40″ x 8′ long, the message part is 6′ long.
2″ × 2″ Square Tube T Stands (mouse over small picture to enlarge).
1″ × 1″ × 1/8″ Steel Frame.
Internally lit with 8 60 watt bulbs.
12 Flashing bulbs in Arrow.
Solid State Flasher.
Ground fault circuit interrupter Cord.
Features
A Lighted Sign with flashing arrow.
With 8 bulbs inside, the sign does not go dark if one bulb goes out.
Brilliant Red cabinet and arrow.
The Non-traditional Arrow sign.
2 sided, sign faces with track on both sides.
T Stands have holes for ground stakes.
Price Includes Crating, Boxing, & Handling. Aside from freight, there are no additional charges. Remember, when shopping, compare total price.