Open Box 6″ on 6⅞″ Clear Back Flex Changeable Sign Letters - Set of 299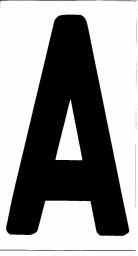 Sign letters that have never been used, but a few may have minor scratches on the clear plastic. It's doubtful these marks will be seen when actually used on your sign. The 6″ block flexible sign letter for changeable letter signs that do not have doors (enclosed). They are approximately a credit card thickness, easily flexed to insert into the Flex Letter Track.
Not for use on enclosed signs (signs with vandal doors)
IMPORTANT - Order carefully, returns cost money - read this before ordering.
Box of 299 Contents
Black
Red

Letters
Symbols

| | |
| --- | --- |
| A | 12 |
| B | 6 |
| C | 6 |
| D | 6 |
| E | 12 |
| F | 6 |
| G | 6 |
| H | 6 |
| I | 12 |
| J | 4 |

| | |
| --- | --- |
| K | 6 |
| L | 8 |
| M | 8 |
| N | 10 |
| O | 12 |
| P | 8 |
| Q | 4 |
| R | 10 |
| S | 12 |
| T | 10 |

| | |
| --- | --- |
| & | 4 |
| / | 2 |
| % | 2 |
| . | 4 |
| - | 2 |
| ! | 2 |
| , | 4 |

Numbers
Symbols

| | |
| --- | --- |
| 1 | 7 |
| 2 | 5 |
| 3 | 5 |
| 4 | 5 |
| 5 | 8 |
| 6 | 5 |
| 7 | 5 |
| 8 | 5 |
| 9 | 5 |
| 0 | 6 |