Open Box 6″ on 6⅞″ Clear Back Flex Changeable Sign Letters - Set of 250 - Condensed Style - Black Letters - Red Numbers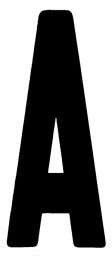 Sign letters that have never been used, but are not in the original box. This set of 6″ condensed flexible sign letters is useful for putting more message in a smaller space. The width of each letter is narrower than the block letter.
We've discounted the price and with FREE SHIPPING, it's ideal for those who need letters on a budget.
Not for use on enclosed signs (signs with vandal doors)
IMPORTANT - Order carefully, returns cost money - read this before ordering.
Box Contents
250
Black
  Letters
    A
12
    B
6
    C
6
    D
6
    E
12
    F
6
    G
6
    H
6
    I
12
    J
4
    K
4
    L
6
    M
8
    N
12
    O
10
    P
6
    Q
4
    R
12
    S
12
    T
10
    U
6
    V
4
    W
6
    X
4
    Y
6
    Z
4
  Symbols
    /
2
    %
2
    .
2
    *
2
Red
  Numbers
    1
4
    2
4
    3
4
    4
4
    5
6
    6
5
    7
4
    8
4
    9
5
    0
6
  Symbols
    $
2
    !
4