Hanging Triplex Sign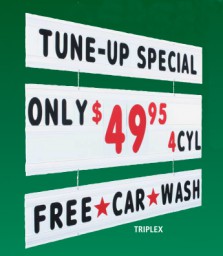 Hanging sign for Window, Wall, or Ceiling with 4″ changeable sign letters, 4″ and 8″ Red numbers.
Features
3-in-1 White one sided Message Board sign displays 4 lines of copy on 3 linked panels; 36″ wide.
The 8″ Red numbers are a real attention getter.
Suction cups included for window hanging.
Comes with
2 - 7″x 36″x 3/16″ and 1 - 12″x 36″x 3/16″ White sign faces with letter tracks on 1 side.
Set of 196 - 4″ letters, numbers and symbols (Black letters and symbols, Red numbers)
Set of 10 - 8″ numbers with Percent symbol (Red)
2 suction cups, 4 links