Model E-8BPM Between Pole Mount Outdoor Sign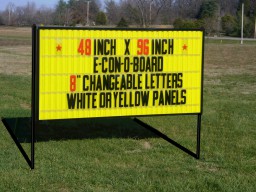 Mounting between two posts is a way to permanently mount the sign. It is also available with optional rigid letters and a business or organization header.
Signs shipped FOB Kentucky (allow 2–3 weeks for delivery). Submit a Freight Quote Request for total delivered price.
Comes with
300 8″ letters, numbers, punctuations and symbols
2 sided with 4 lines of 8″ letters on each side
Impact resistant corrugated fiberglass faces
1″ × 1″ × 1/8″ Interior frames
High output Ballast (if lighted)
Ground fault circuit interrupter (if lighted)
One year manufacturers limited warranty
Posts are not included
Features
Lighted sign has 2 economical fluorescent tubes.
Steel Frame with sheet steel skin or optional Aluminum powder coated skin.
Internal support at the 4 corners.
UL available.
Price Includes Crating, Boxing, & Handling. Aside from freight, (and selected options, if any), there are no additional charges. Remember, when shopping, compare total price.
What's the difference? Flex? Rigid? .030? .060? .090? Explanation!